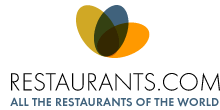 I haven't seen any news about this so figured I would bring some attention to it.
On October 5th 2010 Michael Berkens of TheDomains.com published information about an upcoming Moniker auction which Restaurants.com was part of. Berkens posted this in relation to the domain name, "Reserve price I'm told is north of $6 Million making this seem like a no-brainier great deal if you have the cash."
On May 4th 2011 Andrew Allemann of DomainNameWire.com published information that Monte Cahn was suing Oversee.net for over $13,000,000. In that article it states Cahn was not paid commission for the sale of Restaurants.com.
1 + 1 = Restaurants.com sold for at least $6,000,000.
Unfortunately when the sales information for Restaurants.com does come out, we won't see it on DNJournal.com's top sales list. This sale was a domain name and website. As Berkens pointed out the website generates $80,000 – $90,000 revenue per month, receives roughly 250,000 visitors each month and is ranked #1 in Yahoo and Bing and #2 in Google for the keyword "restaurants".
Regardless of the final price this is a beautiful sale for both buyer and seller.